Out in Carmel Valley is  a cluster of tasty tasty wines produced by some of the friendliest wineries I have been to.  Take a drive down Carmel Vally Road and you will see wineries left and right, one of which is Bernardus Winery.  If you have a group with different wine preferences, or you just love all wine, as I do; Bernardus is a winery that has an impressive range of well crafted wines.  They have Chardonnays, Cabernet, Merlot, Pinot Noir, a Bordeaux blend, and many others.
The tasting room is large with ample counter space to accommodate the crowds that visit on the weekends.  When visiting the tasting
room, I recommend going in pairs so that both tasting menus can be enjoyed (the Bernardus Tasting and the Mr. Pon's Reserve Tasting).  My particular favorites from Bernardus are: 2008 Monterey County Sauvignon Blanc, 2005 Ingrid's Chardonnay, 2006 Tondre Vineyard Pinot Noir, 2002 Marinus and 2003 Reserve Marinus.
2008 Montery County Sauvignon Blanc – This Sav Blanc is exactally what I look for in a "summer wine".  It is light, fruity, and fresh while retaining a full flavor and distinct characteristic.  When drinking this wine I am reminded of green apple, pear, and fresh cut grass.  Simply put, this wine tastes like summer.
2006 Tondre Vineyard Pinot Noir – While there are a few Pinots to taste at Bernardus, this one is my favorite because it has the biggest character.  It is not over the top in fruit, which I frankly cannot stand, but has its fruit balanced with a dose of tannins that make this wine a complex character.  Tasting this wine gives flavors of blackberry and light plum while the nose speaks of slight oak and earth.  It may sound like a heavier red wine, but this wine takes the heavier flavors and floats them on a bed of fruit across your tongue.
2003 Reserve Marinus – This is the wine that we jokingly call the "everyday wine".  It is so good that I wish I could drink it every day, but I think that my teeth would be forever purple if I did that.  This is a bordeaux like blend of Cabernet Sauvignon (86%), Merlot (12%), and Cabernet Franc (2%).  This is a wine that is so dark red it looks opaque in the glass; with flavors of black cherry and hints of tobacco it seems to coat your tongue in a rich, dark flavor.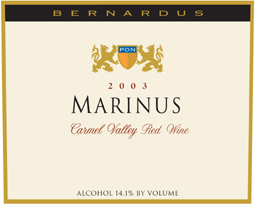 If you are making a trip into Carmel Valley, this is the winery that you must stop by; just tell Chris or Phillip that I sent you!  While you are in the area, there are many other wonderful wineries to taste at: Talbott, Boekenogan, and Chateau Julien to name a few of my favorite haunts.  Maybe someday I will encounter a reader at a tasting room.  Hey, anything is possible, right?